Winners of the LAP2012 Young Scientist award
Oral presentation
Patrick Ehlers
, Ume
å
University
"NICE-OHMS A Laser-based Spectroscopic Technique for Ultrasensitive Detection of Gases"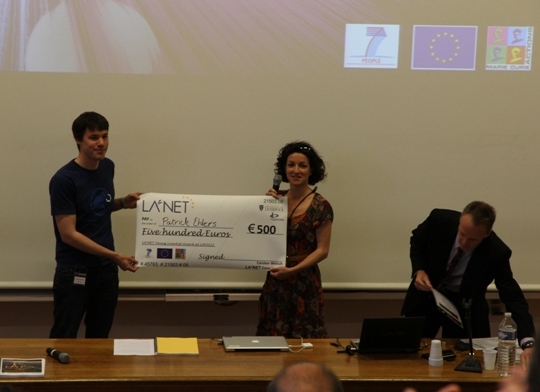 Poster presentation - joint winners
Andrew Klose
, Michigan State University
"Laser Spectroscopy of Stable
55
Mn I using BECOLA at NSCL"
Junyang Wang
, Ume
å
University
"Dicke narrowing and Speed-dependent Effects in dispersion mode of detection and NICE-OHMS - Theory and Experimental Verification"
We are pleased to announce that LA3NET sponsors the Young Scientist Award at LAP2012

LA3NET is a recently started network within the FP7 Marie Curie Initial Training Network (ITN) scheme. LA3NET aims to develop beyond-state-of-the-art techniques and technologies through a joint inter-sectorial training program for early stage researchers in the areas of the exploitation of
LA
sers for
A
pplications at
A
ccelerator facilities for ion beam generation, acceleration and diagnostics. Open Positions for your researchers are posted on their website:
http://www.liv.ac.uk/la3net/
The Young Scientist Award at LAP2012 will be awarded based on contribution (poster or oral presentation) to the conference by a young scientist. For the purpose of this award "Young" refers to a graduate student or someone who completed a PhD degree within the past two years.
We encourage all Young Scientists to submit an abstract before the
deadline of 15 March
. To be considered for the award, send information of your status as student/recent postgraduate degree to the conference organizers (email:
lap2012@sciencesconf.org
)
The LAP2012 Young Scientist Award includes a certificate and an extra prize